S1E39 - That Always Lives Rent Free In My Head For The Rest Of My Life: an interview with Lee Matthew Goldberg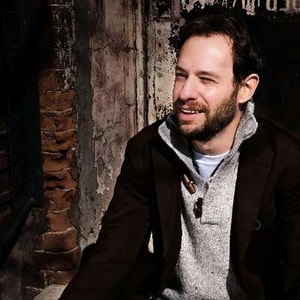 In this episode we talk about Lee Matthew Goldberg's new book, Vanish Me,  90's grunge music, Heathers, Pete Davidson, SNL, public transit, his next projects, and what it's like to have your book optioned. 
Fun fact: this was recorded before the Russian/Ukraine War. Ignore our prediction that the extreme negative world events in our lifetime are slowly coming to an end and won't pop back up until global warming kills us all…
Fun fact #2: this is the last podcast I recorded before I had sinus surgery. So there is a little heavy breathing on my end 😂 
Lee Matthew Goldberg is the author of the novels THE ANCESTOR, SLOW DOWN, THE MENTORfrom St. Martin's Press, THE DESIRE CARD, ORANGE CITY, and the Young Adult series RUNAWAY TRAIN and GRENADE BOUQUETS.
His books are in various stages of development for film/TV. He has been published in multiple languages and nominated for the 2018 Prix du Polar. He is the editor-in-chief and co-founder of Fringe, dedicated to publishing fiction that's outside-of-the-box.
After graduating with an MFA from the New School, his writing has also appeared in The Los Angeles Review of Books, The Millions, Vol. 1 Brooklyn, LitReactor, Monkeybicycle, Fiction Writers Review, Cagibi, Necessary Fiction, Hypertext, If My Book, Past Ten, the anthology Dirty Boulevard, The Montreal Review, The Adirondack Review, The New Plains Review, Underwood Press and others. He is a contributor to Pipeline Artists.
His pilots and screenplays have been finalists in Script Pipeline, Book Pipeline, Stage 32, We Screenplay, the New York Screenplay, Screencraft, and the Hollywood Screenplay contests.
Lee is the co-curator of  The Guerrilla Lit Reading Series. Follow him on  Twitter  Facebook  Instagram