S1E31 - Mami Miami: an interview with Emilly Prado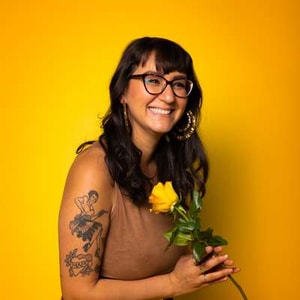 Emilly Giselle Prado is a writer, DJ, and educator living in Portland, Oregon with roots in the San Francisco Bay Area and Michoacán, Mexico. As an award-winning multimedia journalist, Emilly spent half a decade independently reporting on a wide range of topics, most often centered on amplifying the voices and experiences of people from historically marginalized communities. Her writing and photographs have appeared or are forthcoming in more than 30 publications including NPR, Marie Claire, Bitch Media, Eater, Electric Literature, The Oregonian, and Remezcla.
Emilly is the author of Funeral for Flaca (Future Tense Books, 2021), a memoir-in-essays called, "Utterly vulnerable, bold, and unique," by Ms. Magazine, and Examining Assimilation (Enslow, 2019), a youth non-fiction title at the intersections of identity and society. She is a Tin House and Las Dos Brujas Workshop alumna, Blackburn Fellow and MFA Candidate at Randolph College and a co-founder of Portland in Color. She also moonlights as DJ Mami Miami with Noche Libre, the Latinx DJ collective she co-founded in 2017.