Off The Record With Jessamyn Violet: Starcatcher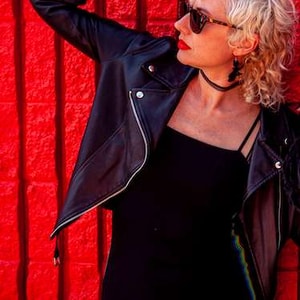 Become a Patron of Textual Healing: https://www.patreon.com/textualhealing
Jessamyn Violet has worn countless different hats and hairstyles. She is or has been, at one time, sometimes, or all the time, the following: A writer, a heavy dreamer, a drummer, a poet, a producer, an actor, a director, an editor, a pianist, a photographer, a journalist, a stand-up comedian, a front woman, a hiker, a biker, a rockstar, a rebel, a really nice girl you can take home to the parents, a feminist, a DJ, a teenager with an "attitude problem," a singer/songwriter, a bartender, a humorist.
Music: Originally from Boston, MA, Jessamyn began to study classical piano and music theory at the age of 8 and went on to perform Chopin at Steinway in New York City at the age of 18. A few years later, while writing a book about musicians, she was inspired to start drumming. Now she's worked with legendary musicians in all types of settings—studios, shows, tours and festivals. Some of the significantly awesome people she's worked with include Tony Berg, Bob Clearmountain, Rami Jaffee, Jessy Green, Eva Gardner, Tim Lefebvre, Jesus Coomes, and Kii Arens.
Writing: Jessamyn Violet is a writer and drummer living in Venice Beach, CA. Originally from Massachusetts, she graduated with a BFA in Writing, Literature and Publishing from Emerson College. She went on to earn an MFA in Creative Writing from California College of the Arts. Her poetry book "Organ Thieves" was published by Gauss PDF. She's placed short fiction in 805 Art + Lit, Adelaide, Little Break and Three Elements. Her debut novel Secret Rules to Being a Rockstar is out now..
Acting/Production: Jessamyn studied acting with Joe Palese (The Actor's Space) in Los Angeles for years, going on to be cast in all different types of projects. She's been in short films, commercials and music videos as well as worked behind the scenes as part of the crew, with a passion for producing, directing and editing music videos. You can view her IMDB page here.
Check out past episodes of Textual Healing on our website: https://textualpodcast.com/
Rate us on Apple Podcasts:https://podcasts.apple.com/us/podcast/textual-healing-with-mallory-smart/id1531379844
Follow us on Twitter: @podhealing
OR take a look at Mallory's other work on her website: https://mallorysmart.com/
beats by God'Aryan and Movie Club